Retailers all at sea with cargo snarls
By LIU YINMENG in Los Angeles | CHINA DAILY | Updated: 2022-08-25 09:40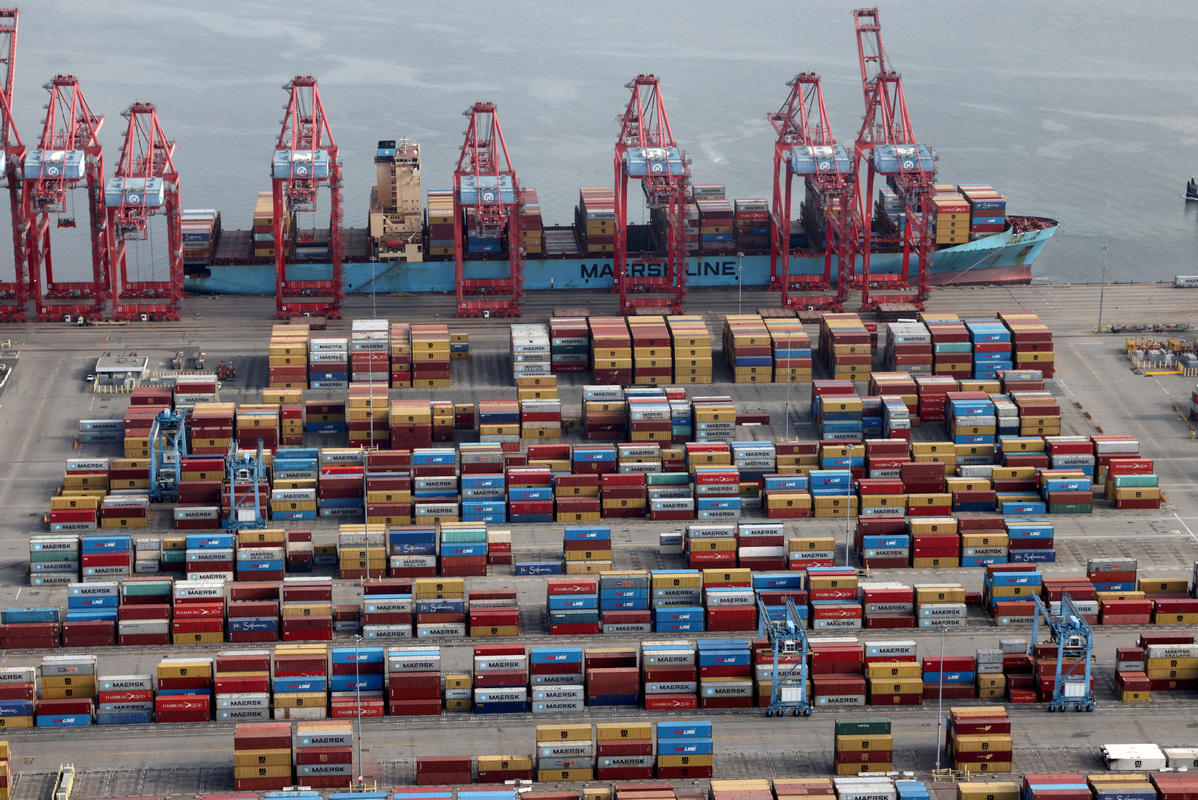 Ships redirected from busiest US ports after wrong bets on consumer demand
A surge in cargo spurred in part by retailers redirecting traffic from the West Coast gateways has caused backups of container ships at ports along the East Coast, adding to the growing supply chain congestion across the United States.
Jock O'Connell, an international trade adviser at consultancy Beacon Economics, told China Daily that US ports "are congested because retailers continue to misread" the consumer market. "Earlier this year, retailers like Walmart, Home Depot and Amazon assumed that consumer demand would remain strong through the spring and summer months," he said. "But a spike in the inflation rate and signs of a possible recession made consumers more cautious about spending.
"In effect, retailers clogged up the nation's supply chains in their efforts to satisfy a level of consumer demand that evaporated."
Despite being stuck with excessive inventories, many major retailers are still importing more goods for the holiday shopping season in the upcoming months in the expectation that consumer spending will not be much affected by the impact of congressional midterm elections in November, O'Connell said.
The peak shipping season usually starts in mid-August and continues through fall as retailers stock up for the holiday season. But this year, to avoid the traffic jam that took place at ports last year, many importers are ordering supplies early from Asia and Europe. A lot of the retailers have also rerouted their goods to East Coast ports to bypass the congestion at West Coast ports.
In addition, importers are concerned about negotiations between dockworkers, their employers and ocean carriers at the West Coast ports. The parties started their talks in May in San Francisco, after an existing contract expired, but have yet to reach an agreement. They reportedly disagree over many issues such as workers' pay and the use of more robotic equipment on the docks.
Labor strife that occurred during contract talks in 2002 and in 2014 left dozens of container ships waiting off the Southern California coast. As a result, importers reportedly are worried about possible strikes that will take place again in the West Coast ports, such as at the ports of Los Angeles and Long Beach, the country's busiest container port complex.
During the first five months of 2022, container ships at the Port of New York and New Jersey jumped 12 percent compared with the same period in 2021. Inbound traffic at the Port of Houston increased 24 percent over the period. In comparison, the combined volume of imports at the ports of Los Angeles and Long Beach grew 0.5 percent from January through May, according to an analysis by Beacon Economics.
Major congestion
In 2021, as demand for consumer goods surged during the pandemic, retailers rushed to restock inventories, leading to major congestion at West Coast ports. A record 100 ships were left waiting to anchor at the twin ports of Los Angeles and Long Beach at one time in October 2021. As of Tuesday, only 23 ships were waiting to dock, according to the Marine Exchange of Southern California.
In a statement on Aug 2 announcing a new quarterly management fee for ocean carriers, to encourage timely removal of empty containers, officials at the Port of New York and New Jersey said the facility has been handling a cargo increase of nearly 12 percent for the year to date compared with the same period last year.
"The Port of New York and New Jersey is facing record import volumes, leading to empty containers accumulating in and around the port complex that are now affecting the regional supply chain that is already under stress from various sources across the country," said Bethann Rooney, director of the port department at the Port Authority of New York and New Jersey.
At the Port of Savannah in Georgia, the second-largest gateway on the East Coast, vessels at anchor peaked at 44 in mid-July, but that number started to decrease in early August. Currently, there are 40 ships at anchor.