London brings in hosepipe ban
By JONATHAN POWELL | China Daily Global | Updated: 2022-08-25 10:03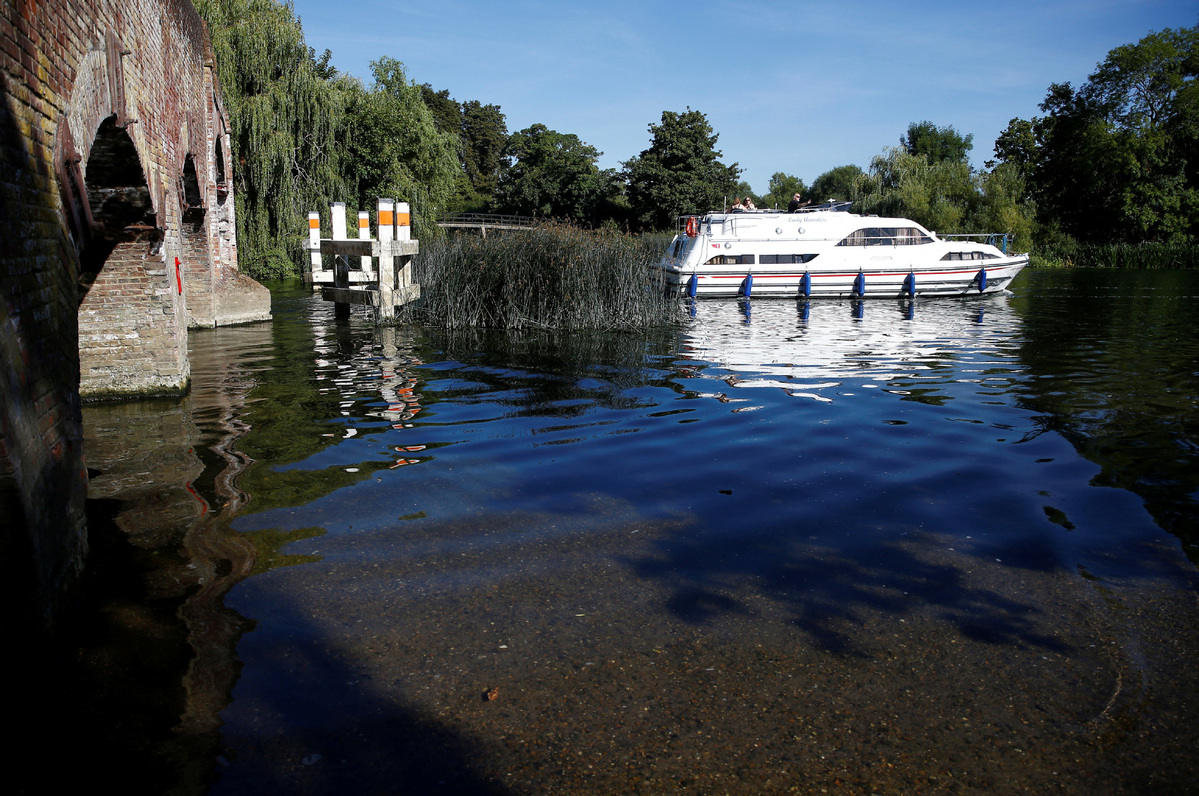 A water hosepipe ban has been formally introduced across London and surrounding southern areas of England following the region's driest spell in decades.
The ban, imposed by supplier Thames Water early on Wednesday morning, applies to 10 million customers, and prohibits use of hosepipes to clean cars, water plants, or fill paddling or swimming pools.
In a statement, the company noted that after months of below average rainfall and extreme temperatures in July and August, water resources in the region were depleted.
The length of the ban would depend on the weather, said Thames Water.
"We need prolonged and significant rainfall. We'll be monitoring our water levels carefully," it said.
The company's drought plan is designed to mitigate the risk of further impact to water resources, it said.
Thames Water's chief, Sarah Bentley, said: "Despite investing in the largest leakage reduction program in the UK, customer demand is at unprecedented levels and we now have to move into the next phase of our drought plan to conserve water, mitigate further risk and future-proof supplies."
The United Kingdom experienced its driest July for more than a century, the hottest temperatures on record, and the River Thames reached its lowest level since 2005.This has led to a drop in reservoir levels in the Thames Valley and London, said the company. Several other parts of England have already introduced hosepipe bans.
Hosepipe bans only cut demand for water by about 5 percent, reported the BBC. It noted that experts say climate change means water companies will have to improve leakage rates, build new reservoirs and encourage less water use generally.
The hosepipe ban has drawn criticism from campaigners that say water companies must be brought back into public ownership.
Trade union group GMB claimed Thames Water's creaky infrastructure loses the same amount of water as leaving a hosepipe on every single day for more than 73 years.
The supplier has faced ongoing criticism for having the worst record on fixing leaks out of all nine water companies in the United Kingdom, noted the BBC.
The company said 60,000 leaks were repaired last year, adding: "We are repairing over 1,100 leaks per week, whether they are visible or hidden below ground."
It admitted that it was "not acceptable to be losing so much precious water" and noted that fixing the situation "would not be quick". It said it will spend more than 55 million pounds ($64.7 million) during the next three years to further help reduce leakage and 200 million pounds on replacing water mains. The company claims to have reduced leakages by 10 percent during the last three years, meeting targets set.
A GMB statement claimed Thames Water loses 635 million liters in leaks everyday, which it noted is enough to fill 245 Olympic-sized swimming pools or fill 8 million bathtubs.