Justice Department: Documents Trump had in Florida could compromise human intelligence sources
By AI HEPING in New York | chinadaily.com.cn | Updated: 2022-08-27 07:16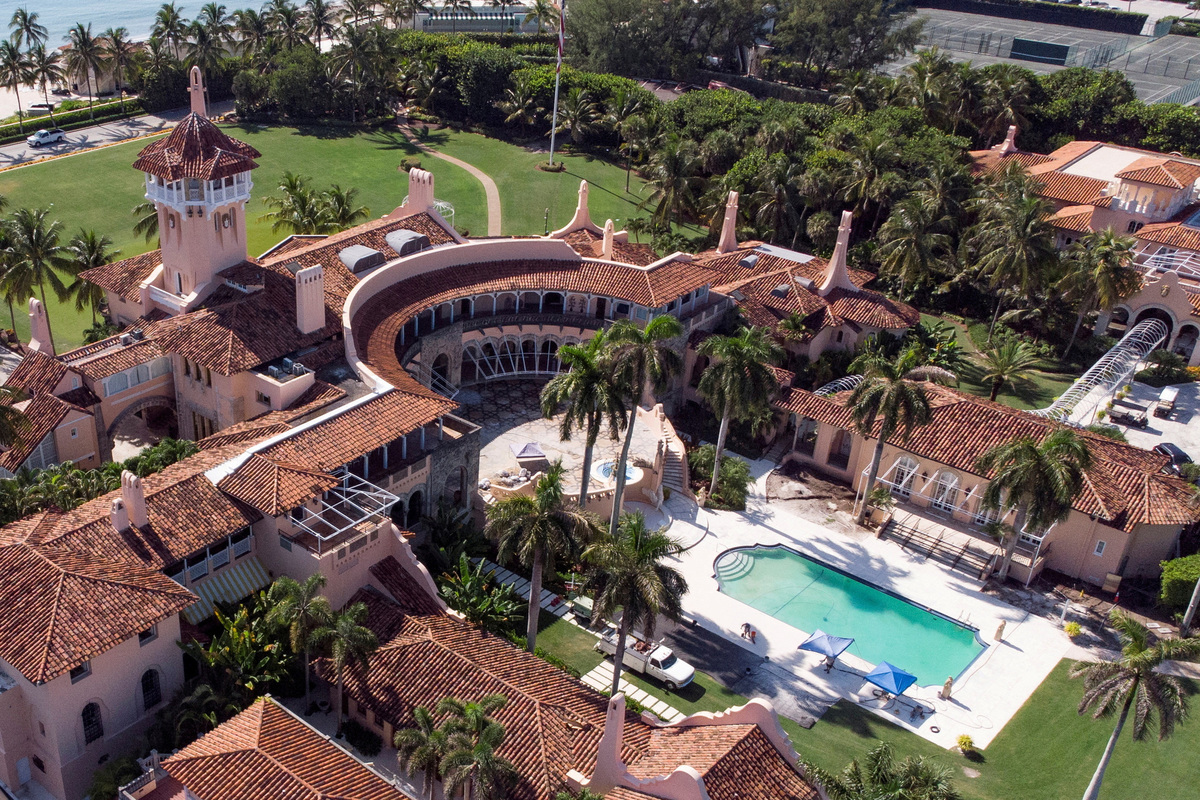 The Justice Department on Friday released a partially blacked-out affidavit explaining why FBI agents searched former president Donald Trump's Florida estate on Aug 8 and removed top secret government records and other classified documents.

The department asked to search Trump's property after receiving an initial batch of highly classified national security documents and was concerned that their disclosure could compromise "clandestine human sources" used in intelligence gathering, according to the redacted version of the affidavit.

The 32-page affidavit says that in mid-May FBI agents conducted a preliminary review of 15 boxes it had recovered from Trump's Florida property earlier this year and "identified documents with classification markings in 14 of the 15 boxes".

The document says that agents found "184 unique documents bearing classification markings, including 67 documents marked as CONFIDENTIAL, 92 documents marked as "SECRET" and 25 documents marked as "TOP SECRET".
The affidavit also says that there were markings on the documents with multiple classified compartmentalized controls.
The affidavit suggests that if some of the classified documents returned from Mar-a-Lago to the National Archives in January had fallen into the wrong hands, they could have revealed sensitive details about human intelligence sources, or how spy agencies intercept the electronic communications of foreign targets, The Washington Post reported on Friday.

The most revealing passages of the affidavit with the identities of witnesses, law enforcement agents, uncharged parties and the investigation's strategy and grand jury information were blacked out.

President Joe Biden said that he would let the Justice Department decide whether national security could have been compromised at Mar-a-Lago when asked about it by reporters Friday. "We will let the Justice Department determine that," Biden said. He didn't answer further questions on the FBI search of Trump's Florida home.
The release of the FBI affidavit came after US Magistrate Judge Bruce Reinhart ruled Thursday that the document could be unsealed after the Justice Department submitted proposed redactions. The judge said the government had met its obligations to justify the redactions.

Affidavits typically contain vital information about an investigation and routinely remain sealed during pending investigations, making the judge's decision to reveal portions of it surprising.

The redactions of the affidavit will make it impossible for outsiders, including Trump's legal team, to get a full picture inside the government's investigation.
They could also complicate Trump's legal strategy, making it hard for his legal team to predict the Justice Department's next steps.

A coalition of news organizations had argued that the release was in the public interest.

Agencies contributed to this report.